Excellence in Treatment Award
When you are searching for a treatment center for yourself or a loved one, the most important thing you need to know is whether they have a strong track record of helping their clients become and remain clean and sober.  Unfortunately, this critical information has been almost impossible to find up until now.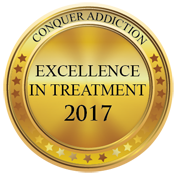 Conquer Addiction created the "Excellence in Treatment" award to identify the very few treatment centers who can prove that a good percentage of their clients are abstaining from drugs and alcohol one year after leaving treatment. 
In order to qualify for this award, a rehab has to provide evidence to Conquer Addiction of the following:
Their research is being conducted scientifically.  Conquer Addiction requires evidence that the center is implementing a scientifically-designed, statistically-valid follow up program for the first year after treatment
One year after leaving treatment, at least 30% of the rehab's clients have been clean & sober for the last 30 days.  While this requirement may at first glance seem to be rather low, it is very difficult to achieve as it requires the following:

The researchers need to be able to contact about 60% of the center's previous clients.  Unfortunately, people leaving treatment are notoriously difficult to stay in touch with as they often repeatedly change addresses, phone numbers and email addresses. 
About 50% of the clients that are reached have to have totally abstained from drugs and alcohol in the last 30 days.  With relapse such a common, heartbreaking part of the addiction journey, this is a high bar to achieve.

If one year post-treatment results are not yet available (it typically takes two full years to reach a large enough base of patients), the center's 6 month post-treatment results show they are on track to achieve the above requirement.  If at least 40% of the rehab's clients report being clean & sober for the last 30 days at 6 months post-treatment, it will be considered likely that the program will achieve the above requirement.


Unlike many websites allowing visitors to search for treatment centers, Conquer Addiction receives no monetary benefits from our recommendations.  Because they are both spending the money to monitor their post-treatment success rates and being transparent about reporting them, you can be confident that treatment centers to whom Conquer Addiction has presented the Excellence in Treatment award are deeply committed to providing the best possible treatment to their clients.