Turning Point Centers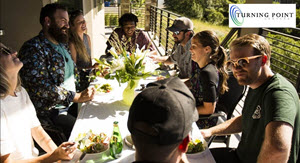 Turning Point Centers utilizes a modern approach to addiction treatment that combines compassion and care, science and research, all backed by measurable outcomes. To our patients, we are a partner for life, regardless of where the patient is in their recovery journey. Turning Point Centers is committed to high-quality and affordable care as the premier in-network provider in Utah and the Intermountain West.
Special Programs:
Young adults (18+)
LGBTQ
Non-12 Step Program
Trauma
Awards & Accreditations:
Success Tracking:
Vista Research Group attempted to contact 170 patients six months after they left treatment at Turning Point Centers. These patients left treatment between 1/3/19 and 9/30/19 following an average of 170 days in treatment. Among the 99 patients reached (58%) at six months post-treatment, 71% reported having abstained from all drugs and alcohol for at least the last 30 days for an overall usage-based success rating of 41%.
Of course, true recovery encompasses more than just stopping using harmful substances. By six months post-treatment, Turning Point's patients reported major improvements in other important indicators of recovery success: